Snapshots 91-105
The Excelsior Wonderful Pony is a "neat little mill," in the words of Don Dean (The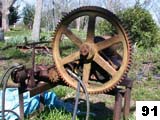 American Cane Mill) and there are a few scattered about in South Georgia and North Florida. Weighing only 650 lbs, the rollers were only 8 inches long and the mill was rated at 1500 lbs of cane per hour (stats from Don's book). Indeed, at one time, I had a jumble of parts for one, but those parts went to Richard Harrison (Altha, FL). Richard had two of these mills, both powered in usual ways. The first (Slide 91) was powered with a hydraulic motor. This mill came from John Wall (or Walls) of China, TX, and was sold to Charles Hilton (South Carolina). The second mill was powered by a rototiller (!). Richard bought this mill from William Turner (Troy, AL) and later sold it back to him.
Readers of Southern Matters will be grateful--as I certainly am--to Sonny Kinchen for sharing images and information concerning his father's syrupmaking operation. Mr. Arthur Kinchen, Sr., was born into a sharecropper's family in 1907 in Grady County, GA. Syrupmaking was then a major cash crop and nowhere more important than in Grady county. Mr. Kinchen started in syrupmaking when he was twelve, about the time that J.S. Roddenbery, Sr., wrote that every one of the 2000 farms in Grady County
made syrup. In corroboration, Sonny remembers his father saying that one could stand on a hill in Grady County and turn in all directions without losing sight of smoke from a syrupmaking operation! Most of this series of photographs were taken in the 1950s and 60s; Mr. Kinchen retired from making syrup on his own at age 62 (1969), but he continued to help people get started, most of whom were interested primarily in keeping the tradition alive. The first slide is of the cane patch itself . The second is of the mill, a Columbus No. 20, a large mill--nearly 2600 lbs--that was rated at 200-250 gallons per hour. Neighbor John Leon Davis is feeding the mill in two images (1, 2). The next slide struck a particular chord with me--I was growing up about this same time 75 miles to the east, and a little north. At that time, farms were farms, like Old MacDonald had, with some corn, pigs, cows, chickens, all before the days of the CAFOs, which I think are a detriment to the environment and our soul, but they produce cheaply, and that is what seems to matter these days. Anyhow, off my soapbox, note the pig wandering around freely, and as Sonny related, getting a little tipsy from overindulging on fermented skimmings. What a lucky pig! . . . sort of like being retired. My overall favorite image, though, is of the factory itself, this "aerial" view showing slabs being feed to the fire. (Nostalgia kicks in again when I remember little sawmills, some of them mobile from which site for years we used as a sawdust source. Only a subset of readers will remember squirting turpentine onto crosscut saw blades to keep them from binding as logs were being cut into a size that could be snaked out of the woods.) I should be honest about this image, though. I am equally drawn to it because of the Ford 600 series tractor, the kind I learned to drive on and this year (Fall, 2010) used this very tractor to bust out middles and cover up my newly planted cane. A landscape view of the factory and a closer view of the pile of pomace provide a glipse of the magnitude of the endeavor. The final operational photograph shows syrup coming off the evaporator . Overall, Mr. Kinchen sold to Roddenbery and other packers, and sold under his own label to area stores, and, of course, supplied his family and friends, of which I expect many. All things come to an end, and the mill went into disuse. Thanks, again, Sonny. Also, special thanks to Juanita Kinchen (Sonny's sister) for acquiring the images.
The National Sweet Sorghum Producers and Processors Association is a vibrant community of sorghum syrup makers. I was fortunate to serve on the Board for several years and, early on, was able to make contributions (by giving presentations, by enlarging the speaker pool), but ultimately had little new to offer. Thus, I resigned and do not attend meetings (because of the distance [=time, expense and release of global-warming gases]), but continue to have fond memories and appreciation for what they accomplish. As a means of preserving these memories, I have prepared some snapshots of the 2002 annual meeting. Regrettably, many of those featured have "aged out" or have passed away.
John Taylor (d. 1965) was a prominent figure and land owner in the far eastern section
of Berrien County (GA). Although some of the land has passed out of the family (the "Nix Place" to my mother's brother Herbert and another place to Tommy Lee, the grandson of Mr. Taylor's second wife, Idel nee Hendley), 375 acres remain in the family, and it is on this 375 acres that the syrup operation stood . The operation was based on a Goldens (New Model) x-series animal drawn mill (Slide 94), which likely was set up in the 1930s or 1940s when Mr. Taylor bought the property. Interestingly, this mill is on a concrete stand, which is highly unusual, like that of my grandfather's, which was converted to concrete about that time. The kettle is in the shed just visible in the right of the photograph. (Thanks to Phil Smith, the great grandson of Mr. Taylor. I am more connected, however, to Phil through the family of his maternal grandparents, the late Jim Andersons, and hence his mother, the late Judy nee Anderson and uncle, the late Earl Anderson. Throwing restraint to the wind, I just have to mention with pleasure that Phil's great uncle Wilber brought us cantaloupes, week after week, year after year. Wilber made his rounds late of the afternoon to friends' houses, for nothing except the satisfaction of being kind.)
Not to worry, even if you are not giddy about bamboo or coastal gardens, I guarantee that you will not be disappointed by a visit to the University of Georgia's Bamboo Farm and Coastal Garden. (I admit that my only interest in bamboo is when it goes by another name, such as "bream pole" or "plant stake.") Indeed, they have a syrup-making operation (headed by Gary Braswell [left in this slide, Savannah, GA]), about which more after a banana interuption . Bananas, what is not to love about bananas? I have been infatuated with them as long as I can remember. Nutritious, biodegradable packaging, delicious cooked or out-of-hand or combined with other food, inexpensive, no requirement for refrigeration . . . . I don't live in prime banana country, regrettably,
and here it often reaches the mid- to upper-teens, and we ourselves have experienced as low as 4F here. Brrr. But, if you live in an area in which sugar cane grows, you have a shot with growing bananas and even producing a few fruit. I have used the Israeli 6-6-6 system (leave one follower with 6 leaves on the 6th of June) and I have protected the pseudostem in-ground. Lots of effort, but when I have been diligent, a cultivar like Orinoco produces fruit. Therefore, I am delighted that the "bamboo garden" is working on bananas (rows of plants, outreach lecture by Dr. Greg Fonsah, placard about growing bananas [large file]). Using a widespread practice, they harvest pseudostems before the first freeze and store them in a protected place during winter. As for me, I do little except talk, day-dream, and maintain a small genetic stock (Orinoco, as mentioned; Goldfinger, an excellent banana I tasted with Don Chafin [highly recommended vendor, btw]); Raji Puri, which I bought from Brandi Crowley [also highly recommended vendor]; Saba and Dwarf Namwah, which I purchased during my visit to the garden; and miscellaneous others, particularly, the short-cycling Viente Cohol, championed by my daughter's former colleague chemistry professor Richard Wallace [large file]). Thanks for indulging my interest in bananas, but enough is enough and the raison d'etre for this entry is syrupmaking. The two-roller frameless mill at the garden (view 1, view 2) has been expertly configured. In essence, the drivetrain comprises an electric motor, a transmission, differential, and finally gears that appear to have had a previous life on a hay baler. The juice runs through the "mortar" of a food mill. The gas-fired furnace, under the same shed as the mill, not more than ten feet or so away, holds a kettle with a 2-ring system. (Note the tabs on the inner ring.) Skimming is with a small commercial strainer, not unlike the splatter screen that is becoming popular nowadays. They take up at the "pancake syrup" stage and sell (out quickly). (My special thanks to Misty Schmitt, who kindly showed me around and provided the action shots, and to Mr. Steward Parker and Ms. Kathy Deloe for additional information.)