Bill and Mary Prescott (Lakeland, Florida)
A seemingly wrong turn after visiting my dear Aunt Bessie put me on the road in front of Bill and Mary Prescott's place. It would probably have been pointless for me to try to resist the dual temptations of citrus AND a syrup business, so I yielded and pulled in without a struggle. Mary, a retired school-bus driver, and Bill, a retired railroad man, have a thriving venture. Bill grew up in Folkston, GA, and his dad had made syrup. The ready market for syrup in their area, their interest in the old ways, the gift of a mill (which he retrieved from South Carolina), and they were in business. After talking with them for a few minutes, they seemed like friends to us.
The Prescotts have a pick-your-own citrus operation, and I digress for a moment to mention their refined taste. The first tree to catch my attention was a Ponkan mandarin, which is in my Top-Fifteen-Citrus favorites. This is a superb fruit, to grocery-store citrus what home-grown tomatoes are to the pink fiber-fill ornaments that are passed off as tomatoes to unwary consumers. The Ponkan is grown throughout the world where its sprightly flavor, kid-glove skin, and meaty texture are appreciated. However, other qualities-strongly alternate bearing, poor shipping, upright growth, cold-sensitivity of most strains compared with other mandarins, and brittle limbs-preclude its use as a commercial variety in the U.S. Of course, we took some with us just as if I did not have a two boxes of satsumas still in cold storage.
Slide 1 is a photograph of the cane field in early February. In this central-Florida location, there was green around the stubble. Especially of interest to me was the small offset tractor (a Farmall Cub or similar), similar to the one my grandfather used for high value crops like tobacco and cane.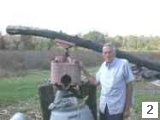 Slide 2, shows Mr. Prescott with his Golden No. 2 (New Model). On Mr. Prescott's retirement, his boss gave him this mill . . . surely beats a pocket watch! This mill appears to be in good shape, and it is certainly maintained well, but the worn grooves on the king roller tell a story of many long days of pressing cane.
The filter that is used for the juice is a very fine metal mesh, which was intended for the maple-syrup industry. An early bulletin indicated that small particles of cane in the juice burn during cooking and impart color. It is tempting therefore to speculate that the light color of the Prescott syrup might be related to the extra-fine filtration of the juice.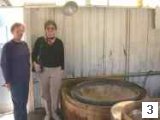 Slide 3, depicts the 50-gallon kettle, which is mounted into a wood-heated furnace. Mary (left) contributed quite a bit about the operation, and for her part, my wife, Nedra (right), listened as she does on these syrup trips.
Slide 4, shows Bill with his stainless-steel dipper. Mr. Prescott judges when the syrup is ready by filling the dipper (perhaps 8 quarts), pulling it out of the boiling syrup and counting to 40. If the syrup is still boiling, it is ready to take up and he then blends the syrup with "just enough" corn syrup to prevent sugaring . Though not directly, Bill's corn syrup comes from Charles Baldree.
Mary sewed together six thicknesses of cheesecloth in bands, about 6" wide (shown behind Bill). These bands are wound around the outside of the rim to filter the syrup as it boils over. Many syrup makers use burlap similarly as a filter.
Slide 5 is the bottling container, which is stainless. Personally, I like the combination of the cast-iron kettle and other components of stainless steel.