Charles Deese (Wellborn, Florida)
My experiences with syrupmakers have been overwhelmingly positive, but Charles Deese (Slide 1) exceeded even my highest
expectations. Making his acquaintance was a crowning achievement. Charles is shown here with his geese, which he enjoys having eat from his hand. Behind Charles is a citrus trees; permaculture (figs, persimmons, chesnuts and so forth) is an interest we share. . . . and Charles takes the same pride in his gallberry honey as I do in my tupelo honey.
Charles is serious about his syrup operation (Slide 2) and built this dedicated shed. In fact, Charles built everything around, including his home.
At present, Charles uses wood to cook his syrup off in this 80-gallon Kehoe kettle (Slide 3). Although the furnace is bricked, a metal frame supports the kettle.
Charles had three operating mills. The first (a modified Morven Foundry and Machine Co. mill, Slide 4) is operated by a sweep. Don Dean has worked out all the connections between this foundry and the three foundries in Quitman. I am anxious to see Don's first edition describing his research.
The second mill (Slide 5) is a mechanized Golden 02. Though disconnected on the day of my visit, this mill is powered with a 3-hp electric motor.
Slide 6 is a disassembled Golden 02 (Old Style). Given its age (manufacture of these was discontinued in 1905) and duties (as inferred from the turned journals), it is remarkably comely. Indeed, this mill won my heart; had Grandpa Sam set up his syrup operation a year earlier, he would no doubt have bought this mill. I will compare the old and new model Golden 02s at some later date at Bill's Corner.
A Columbus No. 12 (Slide 7) rounds out Charles grinding equipment.
I had the good fortune to visit again with Charles during the 2003 syrup season. Indeed, we passed a pleasant day with Bob Adams and his kinfolks (the Brinkleys) at their annual syrup making and feast. (What an enormous amount of good food with Bob's collards leading the way!)
Since my last visit, Charles had motorized his Columbus No. 12 (Slide 7), making it his main mill. An overview of this set-up (Slide 8) shows that a 5-HP electric motor is connected to a 400:1 double-worm reducer. Charles directly and loosely coupled the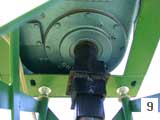 output of the reducer to the beveled journal of the king roller (Slide 9), avoiding an overhang load on the journal. Charles has had excellent performance out of this neat set-up, all the better as he was able to buy some parts at auction and do much of the fabrication himself.